SAME DRIVE AWAY, EASY TO ARRANGE FINANCE
BENEFITS OF BUYING A USED VAN ON HIRE PURCHASE WITH US
Van finance is very easy to arrange. In most cases as long as your credit rating is good we should be able to help arrange finance.
Rates, terms, and deposits are very flexible and a simple five minute application is all that is required. This can be done with us in person or online.
The finance companies we use offer a fixed rate of interest over the term / period of the loan, and rates can be better in most cases than high street banks.
We often hear how complicated it can be arranging a business loan from the bank, especially if you have been trading for less than 5 years and they often require a lot of information.
Whatever your criteria, our staff have a good understanding of the finance industry and the products on offer, and are happy to guide you through the process, finding the best deal for you.
AS WELL AS:
Cash Flow

– Hire Purchase allows you to make an initial outlay and pay the balance over a period, retaining your capital for other uses. The monthly payment is fixed, allowing you to budget monthly expenditure precisely in advance.

Company Asset

– Because you vehicle becomes a Company Asset you will benefit from a write down allowance of 40% in the 1st year and then 25% (maximum £3000) of the residual value can be offset against tax each year.

Equity

– You own the equity in your vehicle. Any value above the settlement figure is yours. Once you've made all repayments the vehicle is yours. The equity can be put back into your business or used against your next vehicle purchase.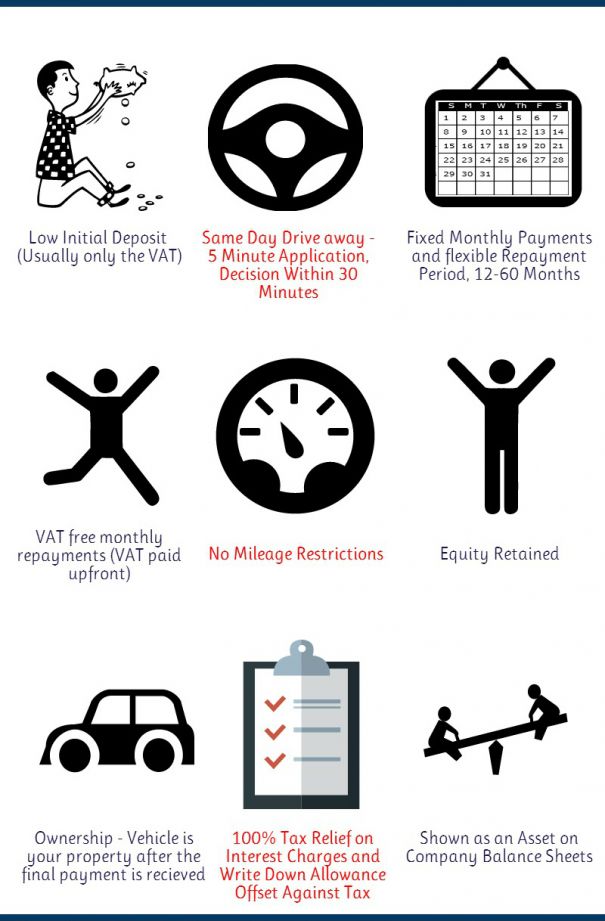 What is HIRE PURCHASE
Why finance through a dealer?